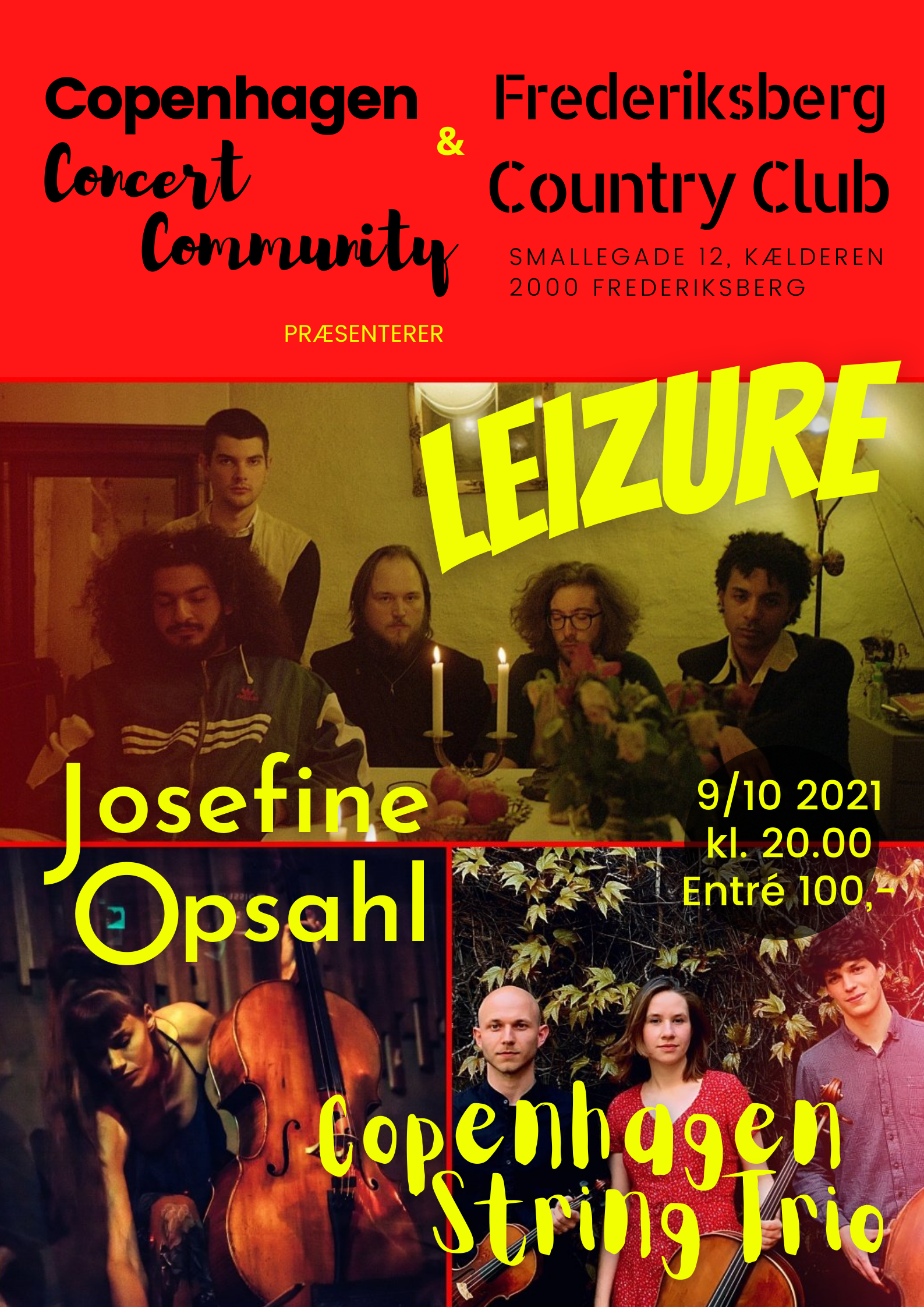 Copenhagen Concert Community og Frederiksberg Country Club inviterer til en aften med den fænomenale Josefine Opsahl, den forrygende klassiske Copenhagen String Trio og de vilde no-wavers Leizure.
En aften med koncertkonceptet "klassisk og rytmisk musik på samme scene"
Billetter i døren/Tickets at the door: 100kr
Dørene åbner kl. 20:00
Show kl. 21:00
JOSEFINE OPSAHL
Josefine Opsahl er en avantgardistisk tonekunstner; en karismatisk komponist der bevæger sig frit mellem elektroniske soundscapes, klassiske klange og stemningsmættet filmmusik. Josefine er klassisk uddannet cellist, medlem af lydkollektivet We like We og modtager af en række priser, bl.a Leonie Sonnings Talentpris 2021.
"I et virtuost møde mellem et raffineret, klassisk instrument, celloen, og elektroniske manipulationer fornyer Josefine Opsahl en forfinet, gammel æstetik ind i en ny tid." (Dagbladet Information 2020).
COPENHAGEN STRING TRIO
Copenhagen String Trio's prisvindendede klassiske musikere mødte hinanden på konservatoriet i København. Om aftenens program siger de:
"We have put together some unique arrangements for this occasion: Bach's Gamba sonata on the one hand and American folk tunes by MarcO'Connor on the other. We are inspired by a trio that O'Connor formed with cellist Yo-Yo Ma and double bassist Edgar Meyer.
Following this musical encounter we will present a classical/folk program of baroque counterpoint and American-style fiddling."
Copenhagen String Trio er:
Olga Chwaszczewska (Polen): Cello
Astor Cortabarria Adde (Spanien): kontrabas
Bartosz Skibiński (Polen): violin.
LEIZURE
Unge københavnske no-wavere der skriver sange, der slår pusten ud af dig, leveret med en kompromisløse æstetik, der eksploderer på en scene. Med til Leizure's lydbillede hører pumpende basgange, insisterende trommer, distortede guitarfigurer og en skrigende saxofon.
Dette kan høres på debutalbummet 'Primal Hymns' (2020), der af GAFFA blev udnævnt som årets bedste post-punk-udgivelse.
Leizure er:

Jonas Frantzen: Bas
Oskar Bertelsen: Trommer, percussion
Zakarias Sanderson: Vokal
Mathias Gørtz: Guitar
Arshia Kadkhodaei: Saxofon
————————–
FCC og Copenhagen Concert Community takker Statens Kunstfond, Frederiksberg Kommunes musikudvalg og Frederiksberg Fonden for deres støtte.
#klassiskogrytmisk
#frederiksbergcountryclub
#copenhagenconcertcommunity
#kunstgørenforskel