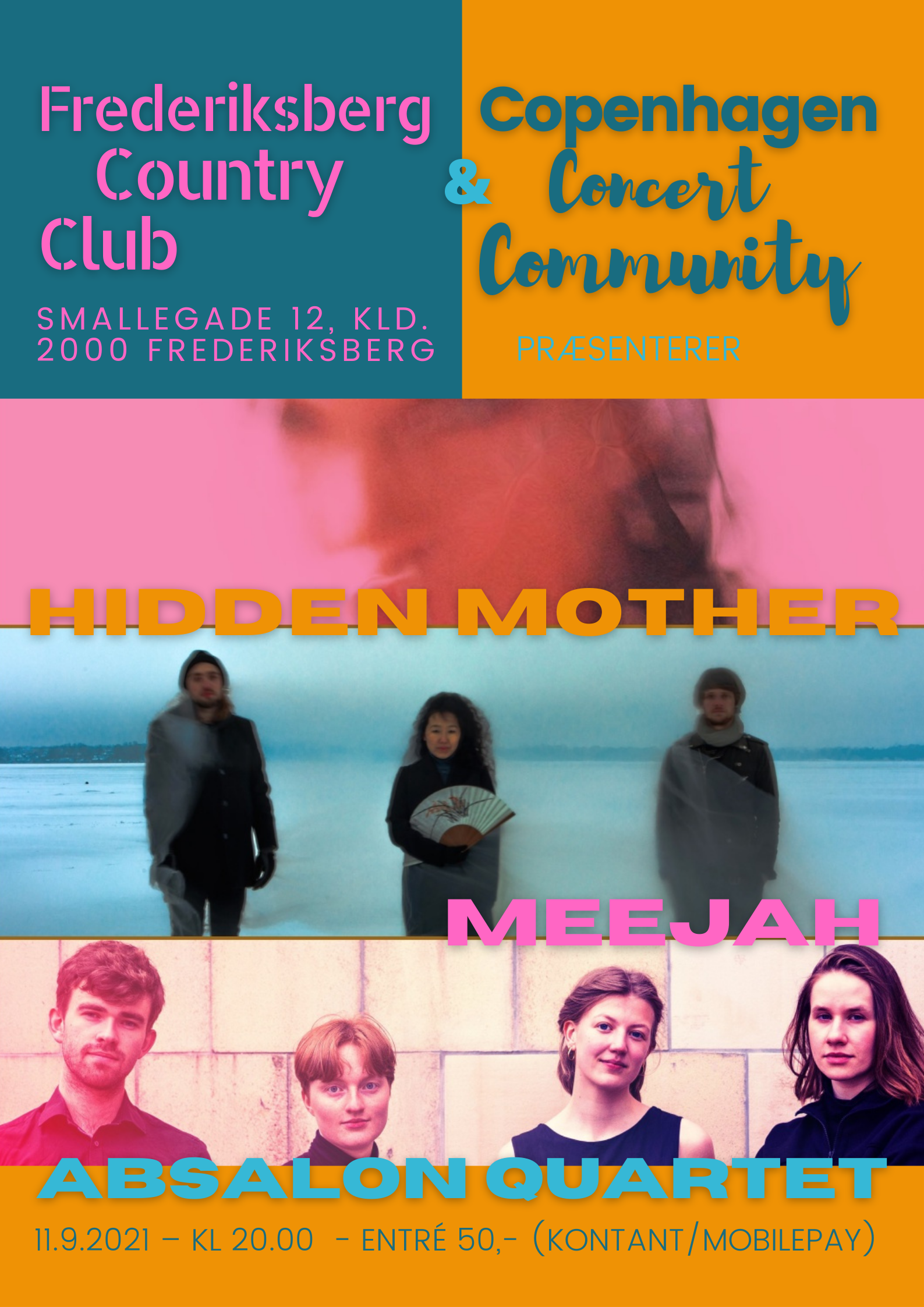 Til september er vi tilbage i de originale lokaler i Smallegade og inviterer til koncert uden restriktioner!
Sammen med Copenhagen Concert Community byder vi på en aften med konceptet "klassisk og rytmisk musik på samme scene" med Hidden Mother, Absalon Quartet og Meejah.
Billetter i døren/Tickets at the door: 50kr
Hidden mother
Singer, composer, producer and sound designer Sophia Maj presents her new project, featuring guitars, vocals and plenty of reverb and delay.
Under the moniker "Ellis May" Maj has produced experimental electro pop, such as the EP "the Distance", to great critical acclaim both in Denmark and internationally. She has performed at venues like Roskilde Festival, Eurosonic and Spotfestival and is also a composer of film music.
"My music comes from some sort of knowing within, based on reactions of my private life situation. I'm inspired by everything that touches me on the soul level. And usually what touches me is pretty dark, pretty intense or makes me laugh, but always authentic."
Absalon Quartet
Vinder af Rued Langgaard Konkurrencen 2021.
Strygekvartetten spiller værker af Rued Langgaard, der komponerede i samme periode som Carl Nielsen men savnede anerkendelse i sin samtid og levede som en outsider lang fra parnasset. Romantisk og dramatisk musik der bliver leveret live af unge ildfulde musikere.
Den dansk / polske strygekvartet studerer hos professor Tim Frederiksen på Det Kongelige Danske Musikkonservatorium i København.
Absalon Quartet er:
Thera Ortved: Violin
Andreas Lienhøft Larsen: Violin
Olga Chwaszczewska: Cello:
Caroline Risbo Gammeltoft-Hansen: Bratsch
Meejah
Dansk-koreansk art-rockband, som netop har udsendt deres debut-album "Queen of Spring": Et cyklisk værk der kombinerer støjrock og pulserende beats med traditionel koreansk poesi og folklore. Meejah fortolker transnational identitetsdannelse og mødet mellem Øst og Vest.
Det har manifesteret sig i sange om den koreanske Han-smerte, en myrdet kejserinde, skjulte informationer i DNA'en, afbrændte marker, færøske nattesange, shamanisme og Kalis dødedans. Østens moder Kwan Yin hvisker kærligt i elementet Vand, og Moondogs ånd dukker op ved en spøgelsesfuld metrostation i Seoul.
Meejah er
Andreas Isbrandt Løvenskjold: Lead guitar
Asger Sørensen: Bas
Rune Lohse: Trommer
Mai Young Øvlisen: Guitar, lead vokal, buddhistiske klanginstrumenter & laptop
---
FCC og Copenhagen Concert Community takker Statens Kunstfond, Frederiksberg Kommunes musikudvalg og Frederiksberg Fonden for deres støtte.
#klassiskogrytmisk
#frederiksbergcountryclub
#copenhagenconcertcommunity
#kunstgørenforskel