Pipaluk & Cecilie Supernova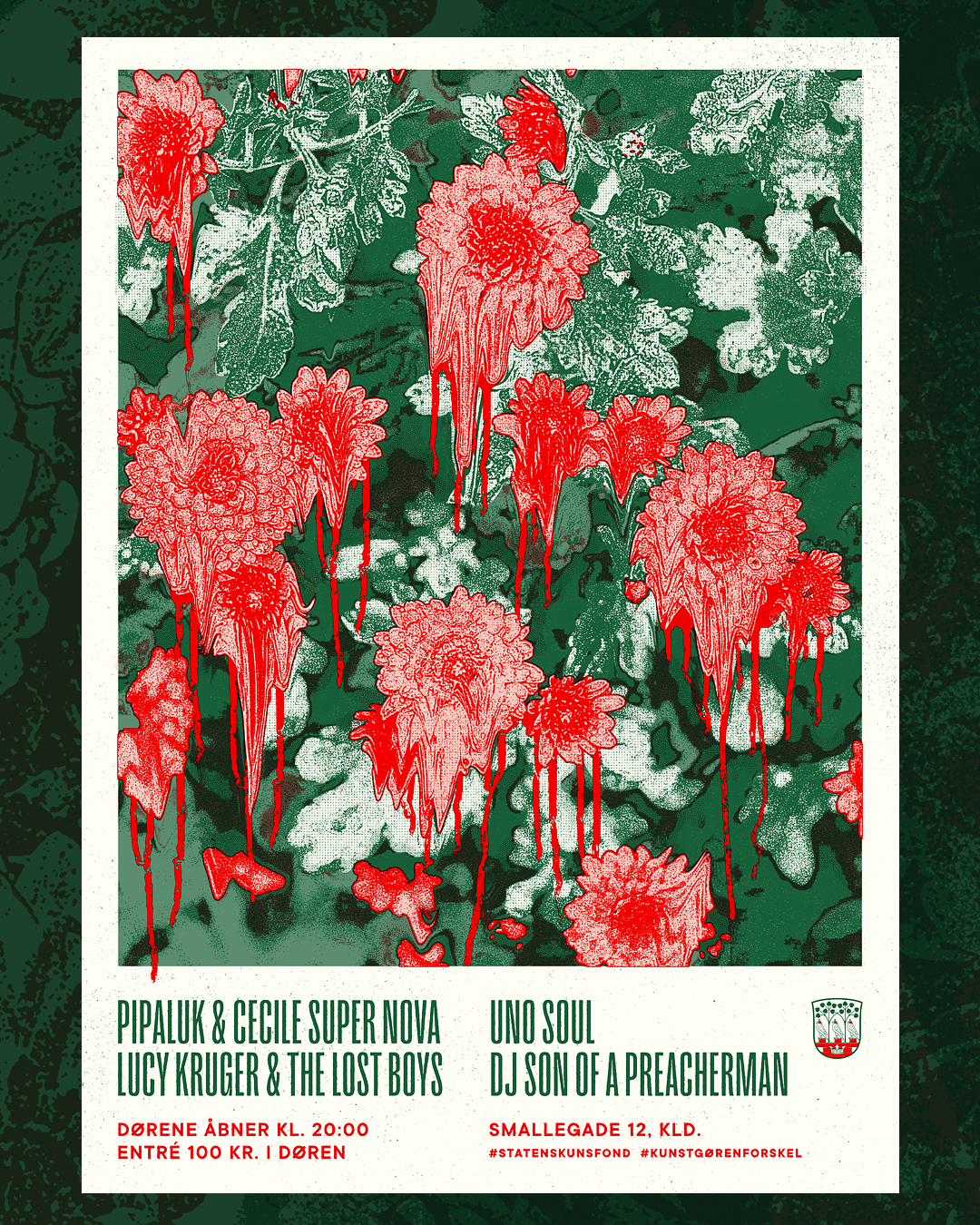 Den antagonistiske dreampopduo tager os med rundt i et dystert-humoristisk landskab præget af støjrock, folk og punk. "Sensuelt og poetisk, men også ret bizart" skrev Information om sanguniverset, hvor vi finder titler som Juleskriget, Heroin Flowers og Happy Money.
Supernova har turneret som duo, rockband og multimedieshow på Roskilde Festival, klubber i New York og teatre i Paris.
Denne aften optræder de som duo, bestående af
Pipaluk: Vokal, elguitar
Cecilie: Vokal, akustisk guitar
Lucy Kruger & the Lost Boys
Sydafrikanskfødte, Berlin/Amsterdam-baserede Lucy Kruger debuterede i 2017 med albummet Summer's Not That Simple. De underfundige titler fortsatte med trilogien Sleeping Tapes for Some Girls (2019), Transit Tapes (for Women who Move Furniture around) (2021) og Teen Tapes (for Performing your own Stunts) (2021).
Det delikate og stille musikalske univers falder et sted mellem alternativ, indiefolk, ambient og drømmepop. Post-Punk skrev om sangene på Sleeping Tapes:
the music feels like lullabies for Nick Drake, as Lucy treads the same deep waters as the folk-pop singer from the late 60s and early 70s, utilizing her voice and acoustic guitar to delicate effect—where the volume is performed in a soft tactile caress of fingers on skin or fretboard.
Lucy Kruger optræder med backingbandet The Lost Boys, som hun lige nu turnerer med i forbindelse med udgivelsen af Teen Tapes.
Lucy Kruger & the Lost Boys er:
Lucy Kruger: vokal, guitar
Gideon Carmel: trommer
Liú Mottes: guitar
Andreas Miranda: bas
Uno Soul
Frontmand Troels Jørgensen har tidligere optrådt hos os i konstellationen TJ and the Reasons to Live; andre kender ham fra bandet Wonderland. I år har han været aktuel med sit andet soloalbum, Willing to Die, som Mads Kornum (Bibzoom) fuldstændigt rammende beskrev som "Nøgent, enkelt, og med nerverne helt ude i stemmelæberne … Stærke sager, så er det sagt!"
Uno Soul, som har bestået siden 2006, blev – også meget rammende – af Gaffa anmeldt som "et stærkt band, der ikke tøver og kan deres shit." Det musikalske univers spænder over alternativ rock med elementer af 70er hippie-rock, 80er punk, 90er grunge og 00er static.
Denne aften optræder Uno Soul med en håndfuld helt nye sange.
Uno Soul er:
Troels Jørgensen: Guitar/Vox
Jens Grünberger Lützen: Trommer
Jeppe Thiesen: Bas
Magnus Sejberg: Guitar