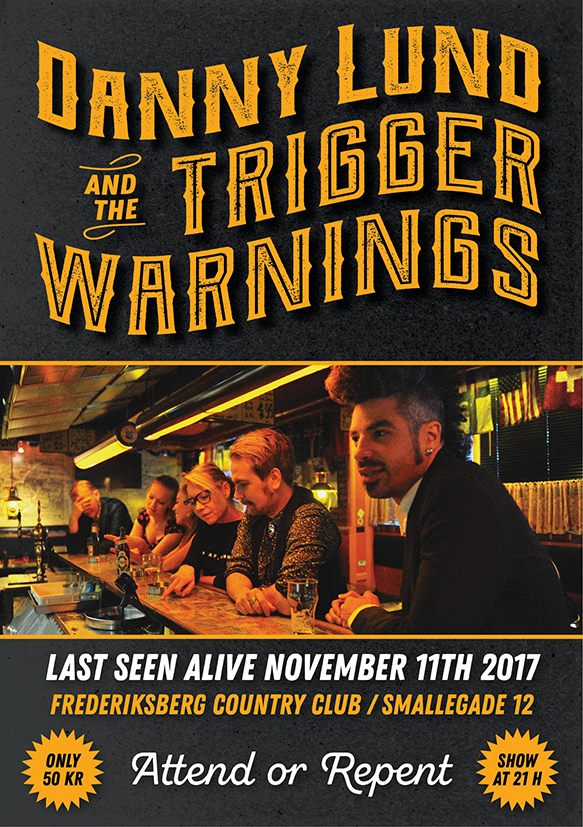 Danny Lund and the Trigger Warnings
Danny Lund & The Trigger Warnings har haft et forrygende år med koncerter på Gimle, Fox Tail Folk Festival og Loppen, og nu – afbrudt af en soloturné i New York – slutter de 2017's Tour de WTF? med et brag på Frederiksberg Country Club 11. november.
Orkestret spiller original musik i genrefeltet frivolous folk/cinematic country/ambiguous americana. Med to vinylplader fra hhv. 2013 og 2016 bag sig og et dobbeltalbum i støbeskeen er der lagt op til en mærkværdig, melodiøs, melankolsk og måske morsom aften i selskab med den politisk korrekt sammensatte sekstet bestående af:
Danny Lund: Vokal, ukulele og percussion
Sisse Selina: Trommer og kor
Emma Engberg: Bas
Hilda Prins: Vokal og tamburin
Sam Brox: Guitar
Peter R. Lademann: Guitar

Anmeldelser
"Fantastisk sound og atmosfære."
"Fantastisk plade med stor humor og indsigt, samtidig med sublim instrumentering og produktion! Very interesting, indeed! Som en Tarantino-film på plade, skønt! Bør høres, før din nabo!"
"Altid interessante tekster […] ikke et sekund kedelig" [… ] "Det anbefales at køre med en tur ad 'The Pathos Less Travelled', som høster 5 stjerner i herværende musikalske rejseguide."
"Det er yderst sjældent, at man skiftesvis ler højt og røres til tårer med få minutters mellemrum" … "Geniale tekster!" … "En meget smuk plade" … "Varm og varieret plade med virkelig gode sange!" … "Den er på top 3 [over] danske "udenlandske" udgivelser jeg nogensinde har hørt."
Links
https://soundcloud.com/theedannylund/killing-couple
https://soundcloud.com/theedannylund/american-prayer
https://soundcloud.com/theedannylund/just-add-vice
https://soundcloud.com/theedannylund/baby-youre-a-bitch-man
Junk Boat (UK/AUS/IT)
This Junk Boat is full of rants, spits, and mirth. A mix of hip hop and rock from a crew of should-be bluesmen, pumping out the jams for the party set. Songs of anger, songs of joy, songs about simple pleasure. Duncan Wigan on the mic and the moves. He's backed by hard riffing rockers Professor Leonard Seabrooke, on bass, and Federico Festino, on drums and keys, Junk Boat promises tunes to get the body movin' and chins wagging.
Duncan Wigan: Vokal
Professor Leonard Seabrooke: bas
Federico Festino: Trommer og keyboard
---
Vi takker Frederiksberg kommunes Musikudvalg og Statens Kunstråd for deres støtte.