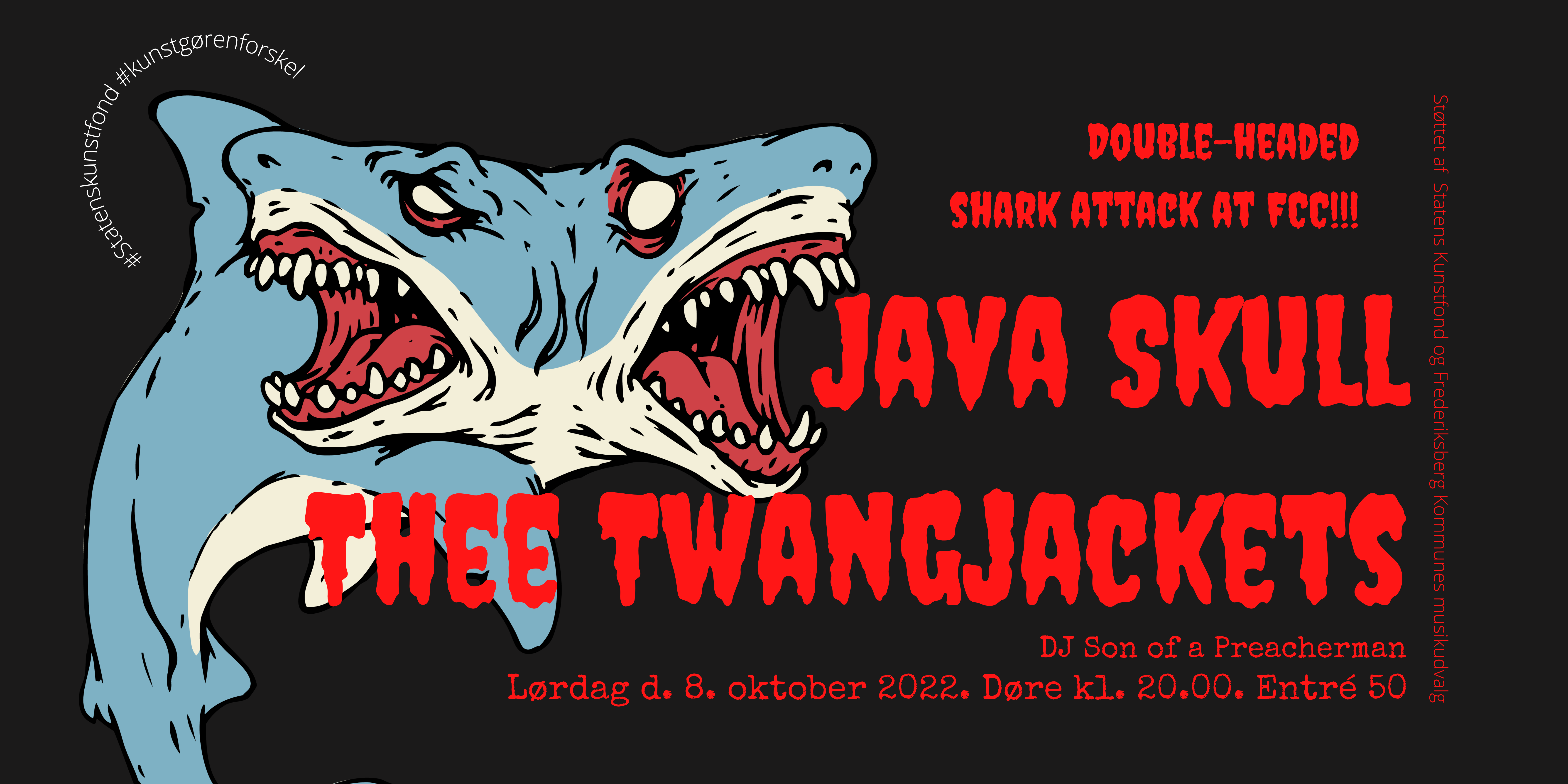 Billetter i døren fra kl. 20.00 (MobilePay eller kontant)

DJ Son of a Preacherman
THEE TWANGJACKETS
Et tomandsband fra Mannheim i Tyskland. De spiller en rå og trashy blanding af garagepunk og surf, altid krydret med en god portion Psychobilly og masser af twang.
Musikalsk er de inspireret af f.eks. The Cramps, The Courettes, Link Wray, Batmobile, Demented Are Go, Power Solo, Screamin Lord Sutch, Hasil Adkins.
Det er højt, det har attitude og det sparker røv.
Koncerten på FCC er deres første uden for Tyskland.

TTJ er:
– Jürgen Herzog: guitar, vokal og theremin
– Dan Kirschner: trommer og vokal.
JAVA SKULL
Københavnsk garagerock/bluestrash duo, som består af javamennesket Dr. Burer og hans assistent Onkel Jakob.
Dr. Burer på guitar og sang fremmaner det manglende led mellem rockn'roll's primitive fortid og nutiden. Slagtøjets betvinger, Onkel Jakob, vækker urinstinkterne med insisterende rytmer.
Teksterne afsøger de mørke og mystiske sider af menneskehjertet, musikken går lige i kroppen og dansebenene.
Java Skull er:
Mark Burer: Guitar og sang
Jakob Øllgaard: TrommerDJ Son of a Preacherman
_________________________
Vi takker Statens Kunstfond og Frederiksberg Kommunes musikudvalg for deres støtte.
#frederiksbergcountryclub
#kunstgørenforskel