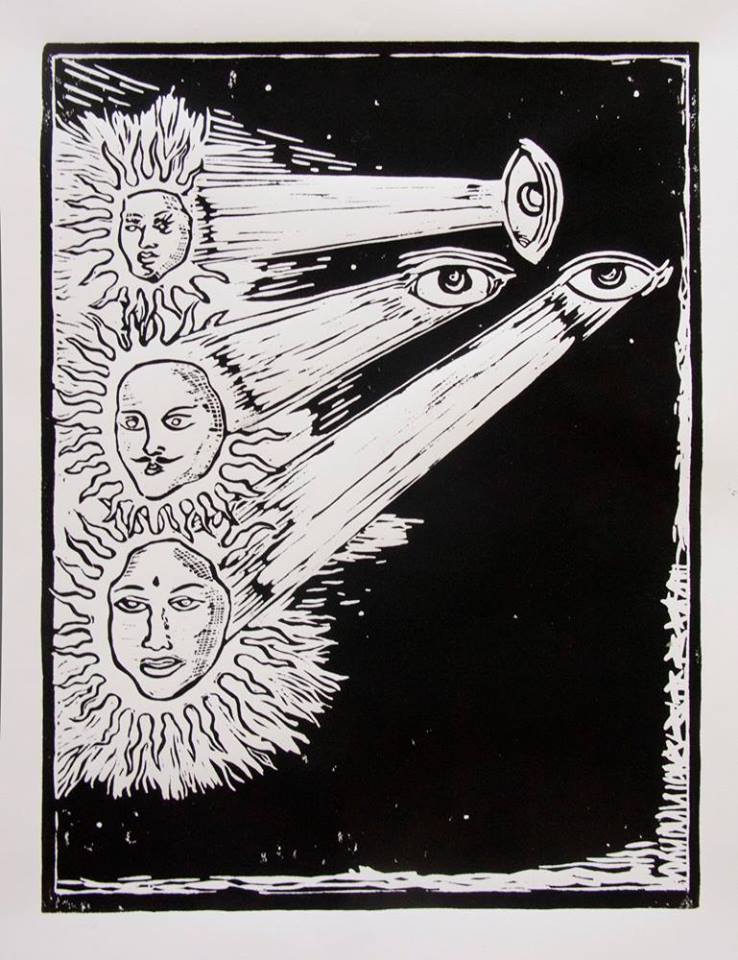 Artwork by CRAIG MARTIN WOOD
---
Mankind (SE)
Explosive, dark, potent, and psyched out. The main little monster fish here is the band MANKIND. Currently whipping up the underground and warehouse parties in Stockholm with their runaway, throbbing and decadent show and masterpieces produced by Gordon Raphael (The Strokes, Regina Spektor). The Line of Best Fit describes it as "A shock to the system not unlike a shot of adrenaline straight to the heart", NME call them "snotty four-piece MANKIND", or as The Needle Drop simply puts it; "MANKIND forever".
MANKIND were brought up on music released long before they were born and in boroughs far from where they lived (the early 90's Seattle scene, the Velvet's New York, The Door's California, London 60s…) and that's exactly where they belong artistically. Their own DNA is a unique sound full of odd MANKIND figments, twisted song structures, lyrics that are¨clever, angry, darkly funny, upsetting and on-point and a world of imagery and ideas that we know will keep us busy and alert.
---
Halasan Bazar
Halasan Bazar will be performing song from their recently released psych-pop album Burns (2017). 
Recorded in the French mountains, armed with a magical unending bag of weed, Halasan Bazar laid down these tunes mostly live – all vocals, acoustic guitars, drums and piano. This immediacy emphasizes their blissed-out sonics, buoyant melodies and kaleidoscopic composition, each moment purposefully placed creating their rich sonic tapestry. Inspired by the greats of Greenwich Village's '60s folk, the lavish production of Lee Hazlewood, vocal harmonies of yesteryear and hallucinogenic day tripping. Some surfy guitar vibes and plenty of driving piano jams too.
Tunes like "Freak" wave that Halasan flag proudly atop infectious guitar melodies and layered vocal harmonies creating a sing-a-long anthem for the misfits and the weirdos out there. "Get Sick and Die" incorporates swelling strings for an unexpectedly dreamy passage alongside sophisticated rock 'n' roll. One of many highlights, "Burns My Mind" has a driving, catchy groove and the entire band firing on all cylinders crafting a bombastic party atmosphere.
A beautiful and vivid album from an unapologetic band of freaks and dreamers, Halasan Bazar effortlessly leave their mark with "Burns".
Cosmic Waves is a Copenhagen-based 4-piece shoegaze/ post-punk band formed in spring 2017, consisting of Danish, Luxembourgish and Swedish members.
The band plays a dark, introverted and at times exploding noisy mix of shoegaze and post-punk, with tight and capturing song structures, drowning in chorus and reverb. Cosmic Waves thus mix the catchy gloominess of bands like The Cure and Siouxsie and The Banshees and the sprawling energy of My Bloody Valentine and Sonic Youth with haunting female vocals.
Cosmic Waves are known for delivering captivating and energetic live performances, which at times blur the lines between the stage and the audience.
So far, the band has released the self-titled EP 'Cosmic Waves' (2017) and a mini live EP (2018), as well as a music video for their song 'Sun Doom'. A new music video for their song 'Dead Night' is also on the verge of release.
---
We thank Frederiksberg Kommunes musikudvalg and Statens Kunstfond for their continuous support
#frederiksbergcountryclub